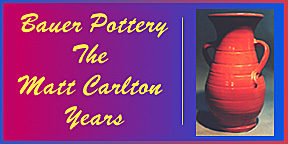 Bauer Pottery:
The Matt Carlton Years
Introduction
I grew up in Southern California and started collecting California industrial pottery (mostly Bauer and Pacific) when I was living in the Arcadia/ Pasadena area. I moved to the central coast of California 13 years ago, packed up my cherished collection and brought it with me. Things happen a bit more slowly in Cambria, which is one of the reasons I moved here. It was like going back in time to the way things were 75 years ago in Southern California in a place like Laguna beach, I imagine. It is part of this fascination with how it use to be, that got me started collecting things that belong to this part of old California history.
The work Matt Carlton did for The Bauer Pottery Company has always been very special to me. Some of the pieces I have are the most prized in my pottery collection (many are pictured in this exhibit). This is the part of California's pottery past that I love the most.
"Yes", I Love This Work !!!
| Return to Main Gallery Entrance | Contact the Gallery |
VERLANGIERI Media/Gallery 2001