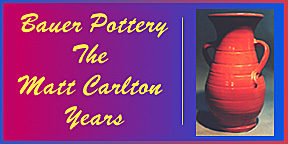 Bauer Pottery:
The Matt Carlton Years
Text
The first time I ever saw the work of Matt Carlton was about 18 years ago. I was antique shopping with my brother-in-law in the North Hollywood area, when he suggested we visit a particular dealer in the area. I had been collecting brightly colored California pottery for a couple of years. Occasionally I would find a piece of Bauer Ring -Ware at the local antique shop or show.
When we entered the shop, I could not believe my eyes! Numerous twisted handled Matt Carlton vases in all colors and sizes among dark blue Wavy Lip vases in different sizes reaching upward like flowers to the sun. Tall, proudly standing Rebekah and California vases in many sizes and colors greeted me! What a feast for the eyes!
"Is this Bauer?", I asked. Prior to this, the only Bauer pottery I had seen was the Ring-Ware line. "Yes", the dealer ensured. "May I look at the bottom?" I asked. "Yes," the dealer answered with a strange look on his face, which puzzled me. Carefully, I picked up a fine Rebekah vase in bright yellow, about 17 in. tall. I know now why he gave me that 'look' (as if I would find some kind of mark on the bottom of the vase). I have never to this day found a marked piece of Matt Carlton Bauer Pottery. Hand made pottery (formed on the potter's wheel) and pottery produced by the Bauer Pottery company during this period, has no stamped or inscribed marks. Most likely, each was marked with a temporary "point of sale" paper label or tag which was quickly removed by the purchaser when it arrived home. I have heard of a piece being found with this label still attached but I have never seen one myself. As I picked up the vase I thought to myself "looks like Bauer," because it had the same yellow glaze I had seen many times on marked pieces of Ring Ware. But as I looked at the bottom, I saw no mark. Since it was the first time I had ever been in this shop and did not know the dealer, I was a bit skeptical about what I was seeing.
Thinking back of that first experience with Matt Carlton's Art Pottery, I could really kick myself because now I realize what I was really seeing then. Right then I should have pulled out my credit card and bought everything. I did return a couple of days later and made several timely acquisitions from this dealer, and although the prices seemed high at the time, looking back now, I know I did very well. Some exceptional examples were added to my collection. You will never be unhappy if you find the courage to buy what you like and buy the best you can afford.
I have seen quite a few examples of Matt Carlton's pottery in the last 18 years. Many I have found through pottery dealers, and others I have found at swap-meets, yard sales and auctions. I think it is really great fun to collect items that show up locally (in California).
One of my most memorable finds was a vase that showed up at a local country auction. How these items get to a place like this is something one could write a book about if they knew. This vase is pictured as figure #16(center) and is the largest twisted handled Matt Carlton vase I have ever seen. There is a small indentation on the side of this vase about the size of a quarter. It most likely got bumped when it was picked up while still wet and then was glazed over later. At the preview of the auction, this vase was labeled "oriental vase" and it had a sticker with an arrow pointing toward the underglaze indentation that said "signed". Now I can't read Chinese, but wouldn't it be funny if this accidental bump or "mark" did say something in Chinese!
Matt Carlton was hired by the Bauer Pottery Company to throw pots on the potters wheel. He was probably hired in 1912 because his work was well represented at the Panama-California Exposition in San Diego in 1915-16, and the Bauer Pottery company was awarded a Bronze Medal for its Art Pottery exhibit. During this period (1912-1929) Matt Carlton created some very beautiful forms that were glazed in mostly matte green glazes in the style of the American Arts and Crafts Movement. In 1929 things were changing as the great depression was beginning. This same year the Bauer Pottery Company hired Victor F. Houser as a ceramic engineer. He was the one responsible for developing the brightly colored glazes that the Bauer Pottery Company is most known for today (green, light blue, yellow, orange, dark blue, black and white) an event that changed the history of California pottery forever.
Soon after the public enthusiasm for the new cups and dishes dipped in these new glazes grew, almost everything produced by the company was fabricated in these new and exciting glazes. The California, Rebekah and Carnation vases that were being created by Matt Carlton (please see figures 9,12 and 13 of Bauer Art Pottery 1912-1929, Oct.91, Verlangieri Gallery) since 1912, were now being glazed in these new colors.
A variety of new shapes were composed to be glazed in these colors, which include the Matt Carlton vase (please see figure 1), 8 1/2 in. jug (please see figure 10), the Fan vase (please see figure 4), the Wavy Lip vase (please see figure 12) and a few forms in the Plain tableware line that were thrown by Matt Carlton, such as the Candle Holder (please see figure 3).
A few unusual and odd shapes have occasionally come my way, such as the Oil Jar Vase (please see figure 8). This is a very beautiful and rare shape that is wheel thrown and unlike the more common oil jars seen today. This vase is quite exceptional with its donut shaped top and bulbous shoulder, then slenderizing as the shape flows toward the bottom. One of the most unusual pieces of pottery I have ever seen is the Two Handled Fan vase ( please see figure 9). This form has no classical background and is quite odd at first glance. However, at closer observation, when viewed with the rest of the work created by Matt Carlton, it is right at home. It has that "animated" look, giving the impression that if it had feet, it would dance away as in a Disney movie.
One of the most favored forms of collectors today, created by Matt Carlton, is the form which bears his name, the "Matt Carlton Vase" (please see cover). This form was created in two distinct styles, one with very tightly spaced rings (please see figure 2) which was designed to match the rest of the Ring Ware Line and the other with rings consisting of wide spaces (please see figure 5); the latter being the most common.
Another simpler but elegant form is the Carnation vase (please see figure 14). This form was produced from as early as 1912, but after 1929 it was glazed in all the bright new colors. One of the new forms produced after 1929 was the Wavy Lip vase (please see figure 12), with it's tall, slender, widely spaced rings starting from a wide foot up to it's open spreading wavy lip top. These biomorphic shapes (almost like a flower or sea anemone) have once again that "animated" look, which is reminiscent of the singing flowers in a Disney movie.
It is no surprise that the work of Matt Carlton is as relevant today as it was in the 1930's and 1940's. It reflected the multi-culturism of California's Hispanic heritage with its bright colors and animated forms, bringing happiness and a sense of escape to the homes of a country in the midst of an economic depression.
Michael John Verlangieri
"Yes", I Love This Work !!!
| Return to Main Gallery Entrance | Contact the Gallery |
VERLANGIERI Media/Gallery 2001