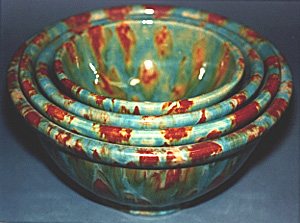 1. Pacific Clay Products Company, Set of Mixing Bowls
Four mixing bowls sizes 24,13,12, and 9.
Sapphire Blue, Cactus Green and Apache Red dripped over a yellow ware clay body.
height: 5" diameter: 10 1/2" (largest)
height: 5 1/2" diameter: 7" (smallest)
marks: A double line enclosing the word Pacific stamped.

"Yes", I Love This Work !!!
| Return to Main Gallery Entrance | Contact the Gallery |
VERLANGIERI Media/Gallery 1998